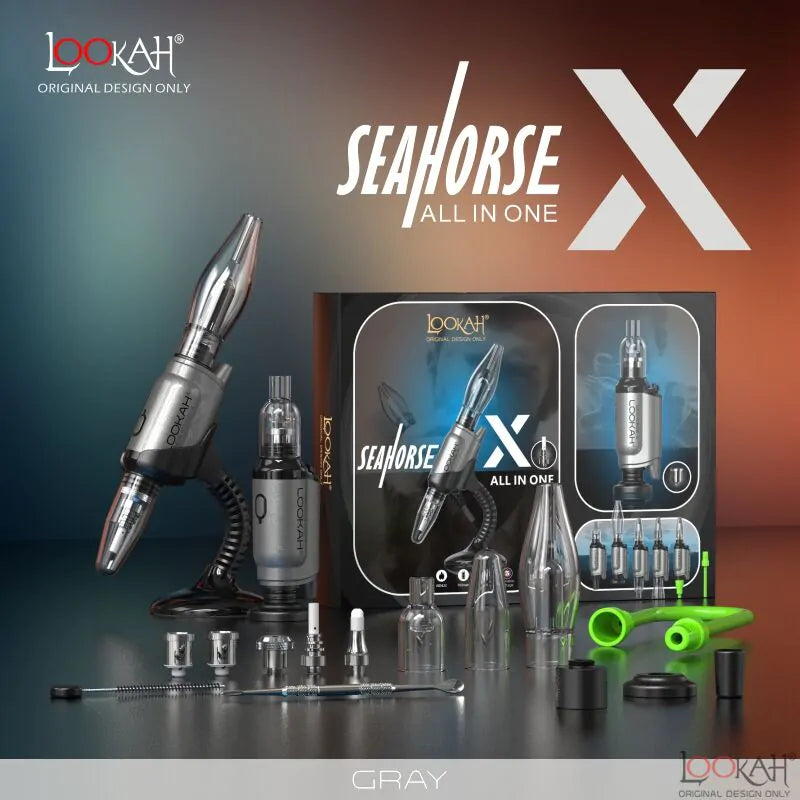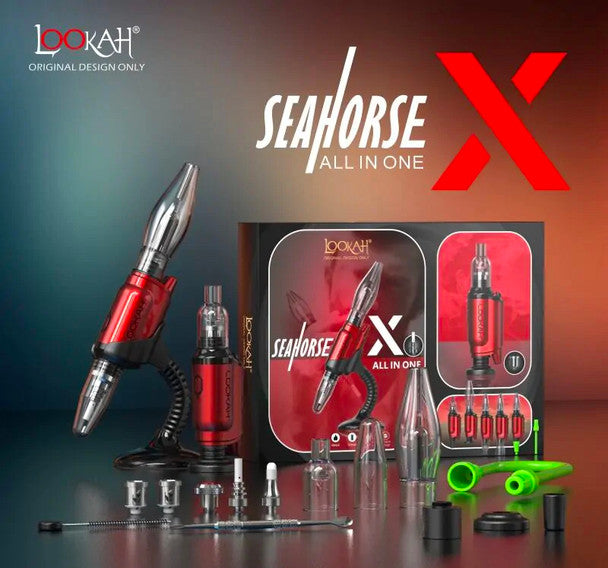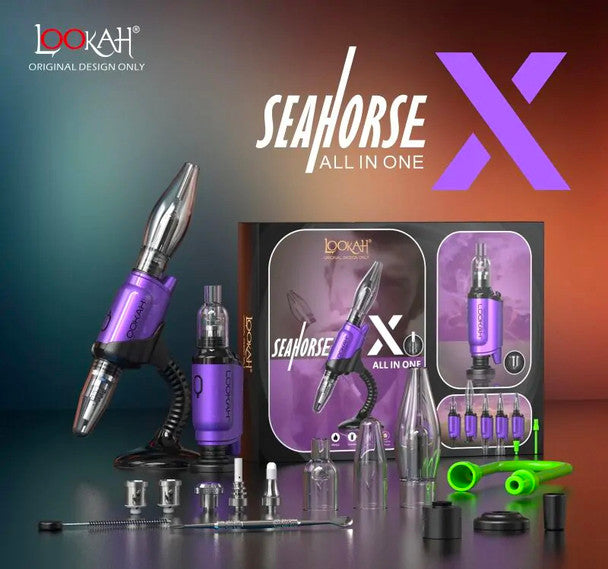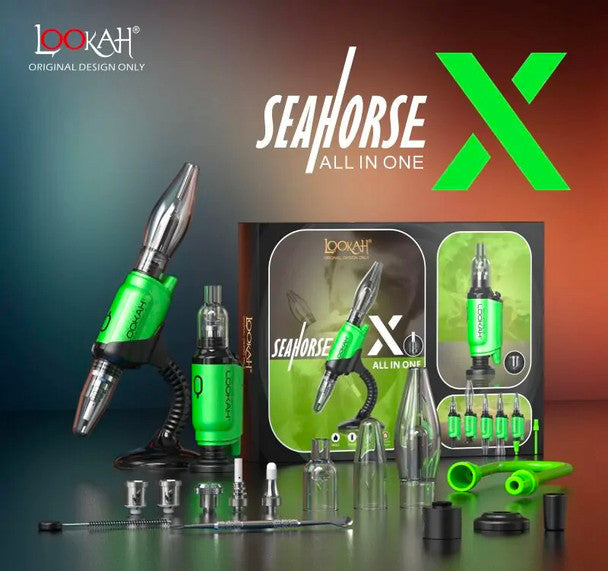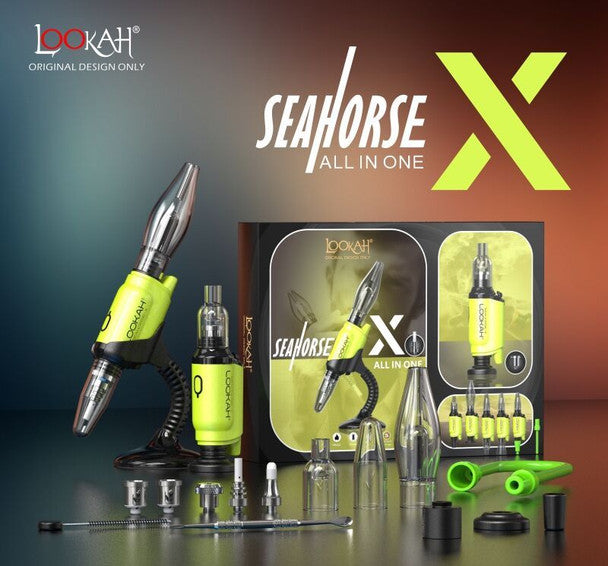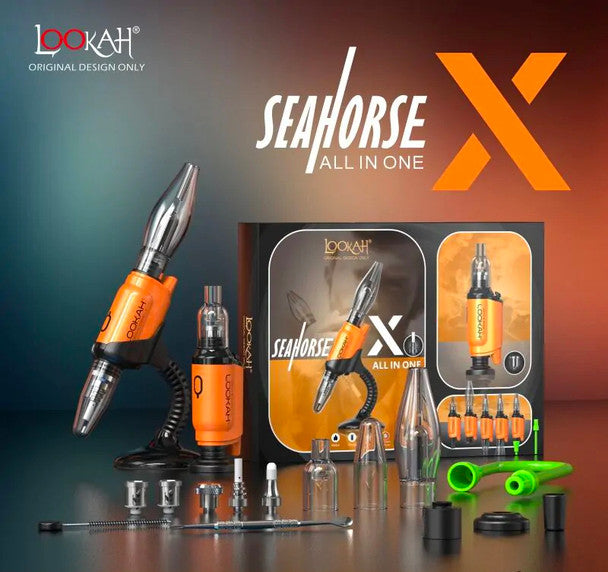 Login to view price.
LOOKAH SEAHORSE X - ALL IN ONE
The Seahorse X wax pen is the most versatile device Lookah has ever created. This multifunctional device is an Enail, an E-Nectar Collector, a Wax Pen, and Cartrdige Battery all in one. It even offers water filtration options for smoother hits!

This revolutionary design is the first in combing features of an electric nectar collector with an enail, all packaged in one superbly sleek design. To give the user better control of your cloud size, the Seahorse X has a built-in airway valve that can be used as a carb cap on any of the formats. 

How To Use the Seahorse X Vape Pen
A standard 5 button click turns the Seahorse X on. 
Once the device is powered on, you can select one of the three temperature settings, which adjust the voltage from low, 3.2V, Medium, 3.6V, or High 4.1V.
With the temperature set, you can choose from Manual Mode or Sesh Mode.
Manual Mode allows up to 20 seconds of heating (Pressing the Button).
Sesh Mode allows for a 15 second preheat with a continuous heating for 30 seconds for multiple hits.
The Wax Pen Setup
This kit includes two atomizer cups that screw directly into the coil deck. The included glass mouthpiece or water bubbler can easily slide over the atomizer cup allowing the device to be used as a wax pen. The Seahorse X Wax Pen set up is also compatible with other water bubblers on the market. Most should work with this set up by using one of the two threaded attachments.

The E-Nectar Collector Setup
With a 510 thread adapter, the Seahorse X can be used as a e-nectar collector connecting any of the three types of Seahorse coils of your choice: quartz tip, ceramic tip, or the new ceramic tube. 

When used as a honey straw, the glass mouthpiece or water bubbler fits directly onto the lower end of the device. You can also directly attach the mouthpiece end to a water pipe or use the included silicone hose and 14-18mm adapters. 

It comes with an all-new Lookah Seahorse type III coil. This new tip is an electrically heated nectar collecting tube made from two layers of ceramic covering the coil. As the coil heats up, the tube will vaporize concentrates, turning them into vapor without leaving you with a burnt taste.  

The Enail Setup
In the enail setup, you can connect the Seahorse X directly to your water pipe. Just use the included 14mm joint connecter or attached the included Silicone Hose and adapter to fit 14/18mm female joint pipes. If you're using the nectar collector layout, then the Hose fits onto the lower end of the device with the joint connector or through the glass mouthpiece. 

Kit comes with
1 Seahorse X  
1 Tip/Coil Cover 
1 Seahorse Tube Tip 
1 Seahorse Quartz Tip 
2 Wax cup  
1 Glass Mouthpiece  
1 Glass Bubbler   
2 Stands/Bases  
1 Joint Connector  
1 510 Thread Adapter  
1 Dab Tool  
1 Silicone Hose
1 14/18mm Hose Adapter 
1 User Manual 
1 Cleaning Brush 
1 USB Cable